Nervous Breakdown
---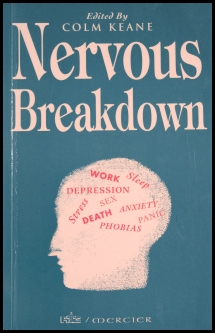 Nervous Breakdown
Edited by Colm Keane
Most Irish families have at one time or another been affected by the bewildering consequences of 'nervous breakdown'. The symptoms and manifestations include depression, panic attacks, addictions, phobias, obsessions, sexual problems and difficulties eating and sleeping. These may result from anxiety, stress, trauma, family pressures, or from events such as job loss or bereavement. If you or your family have experienced any of these problems then this book will be of interest to you.

Nervous Breakdown is a companion to the RTE Radio One series of the same name. The book is presented in an 'easy to read' style and is aimed at the non–expert. It offers simple advice on how to cope with the pressures and stresses of everyday life and it gives practical advice on the treatments available.

Contributors include some of Ireland's most eminent psychologists, psychiatrists and therapists.