In Search of Thinness – Treating Anorexia and Bulimia
---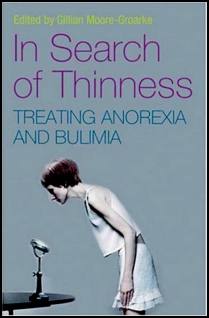 In Search of Thinness
Treating Anorexia and Bulimia
Edited by Gillian Moore–Groarke
In Search of Thinness proposes a multi–disciplinary approach to the treatment of the eating disorders that are becoming increasingly prevalent in our society, especially among young people. Drawing on the expertise of health professionals with extensive experience of dealing with anorexia and bulimia and also with obesity, the book provides a blueprint for an integrated approach that will, it is believed, provide the best hope of resolution for sufferers. The contributors are: Most Irish families have at one time or another been affected by the bewildering consequences of 'nervous breakdown'. The symptoms and manifestations include depression, panic attacks, addictions, phobias, obsessions, sexual problems and difficulties eating and sleeping. These may result from anxiety, stress, trauma, family pressures, or from events such as job loss or bereavement. If you or your family have experienced any of these problems then this book will be of interest to you.
GP Rory Lehane

Consultant Psychologist Gillian Moore–Groarke

Consultant Psychiatrist Aisling Campbell

Consultant dietitian Ann–Marie Brennan
Finally, Two young women who suffered from eating disorders give honest, sometimes searing accounts of their long journey to wellness.
In Search of Thinness is a valuable handbook and reference for sufferers from eating disorders and their families and for teachers, social workers and health professionals who deal with young people on a regular basis. It includes a list of resources, suggested reading and useful websites.